Dr. Brad Elkins, a board-certified eye surgeon, proudly helped transform eye surgery in the San Fernando Valley. In 1996, he became one of the few fellowship-trained cataract and refractive surgeons in the USA. He performed the first LASIK surgery in the Valley as well as the first topical clear cornea cataract surgery. Additionally, he and Dr. David Aizuss were the first eye surgeons to perform DSAEK, a type of corneal transplant in the area. Because of these innovations, Dr. Elkins has received multiple rewards including:
Selected the third year in a row in 2020 for the Best of Encino - Ophthalmologist and is eligible for Encino Business Hall of Fame.
Named "Outstanding Ophthalmologist in the Valley" by the Daily News
Awarded "Southern California Super Doctors" each year consecutively 2007-2020
Received the VISX Star Surgeon award, which is given to only the top 5% of LASIK surgeons
Inducted into the exclusive PS250 by his peers as a leader in the field of cataract and premium IOL surgery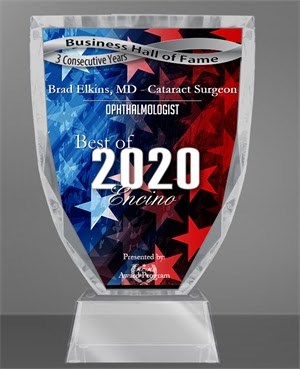 Specialties and Expertise
Overall, Dr. Elkins has performed well over 10,000 cataract surgeries using no suture and topical anesthesia as well as approximately 5,000 LASIK surgeries. Not only does he specialize in cataract and refractive surgery but he has undergone vision correction surgery himself. With over 25 years of experience in the field, Dr. Elkins leads the way in performing advanced eye surgeries within the San Fernando Valley. At Opthalmology Associates of the Valley, Dr. Elkins uses groundbreaking techniques to help patients who suffer from cataracts, glaucoma, macular degeneration, cornea diseases as well as taking care of comprehensive eye issues including yearly eye examinations.
With both Phi Beta Kappa and Summa Cum Laude accolades, Dr. Elkins received his undergraduate degree from UCLA. After UCLA, he graduated with honors (AOA) from UC San Francisco School of Medicine and then completed an internship at UCLA. Following his internship, Dr. Elkins attended his residency in ophthalmology at the prestigious Jules Stein Eye Institute at UCLA. To further enhance his skills, he pursued a fellowship in Cornea, Cataract and Refractive surgery at the University of Utah. In addition to his time at OAV, Dr. Elkins teaches as an instructor for LASIK and advanced cataract surgery courses. He has worked as the medical director of TLC-Encino. Here, he served as a leading provider of LASIK surgery in Los Angeles. Today, he continues to teach other physicians about LASIK and advanced cataract surgery. Further complimenting his skills and experience, Dr. Elkins has written multiple articles about advanced cataract surgery, corneal transplantation, and laser refractive surgery.
Reviews
"Got my Lasik done with Dr. Elkins. Best decision I have ever made! Traveling, working out, and everyday tasks are much more convenient. He even texted me on a Saturday after the procedure to check on me. Thats wassup!"
P.N.
Facebook
"Both my wife and I had lasik surgery with Dr. Elkins. First myself. Then a year later my wife had the surgery. We couldn't be more pleased with the results and the process. Dr. Elkins and his staff are the best. Top notch."
A.S.
Facebook
"Dr. Elkins is amazing! I did my LASIK surgery with him and it turned out perfectly I'm so glad I did it. He is very cool and caring and compassionate."
K.M.
Facebook
"Dr. Elkins and his staff are top notch. I have been to many cornea and glaucoma specialist and he is the best. He has performed many surgeries on my eye, including a .DSAEK. All without complications. I suffer from a rare form of glaucoma and I could not have asked for a better doctor."
M.L.
Facebook
"I've been seeing Dr. Elkins for almost two years now and most recently he performed cataract surgery on my right eye. I couldn't be more pleased with the results. It's still hard to believe that the surgery was ever performed because it went so smoothly, and it now is almost a month since its completion without any complications. I attribute this to Dr. Elkins skill as a surgeon, the outpatient facility where the surgery was performed and to Dr. Elkins' surgical coordinator, Ana Robles. Not only does Dr. Elins have outstanding academic credentials, but he's personable and attentive and a first class ophthalmologist as far as I'm concerned. I've recommended him to my wife, who now uses his services, and I would have no hesitation in recommending other members of my family or friends to Dr. Elkins for their eye care. The only thing left is to see for yourself, and you'll see better because of it."
S.K.
Yelp