Our expert ophthalmologists in San Fernando Valley of Los Angeles, CA have years of experience performing the most innovative refractive surgery techniques, such as all-laser LASIK. OAV surgeons were the first to offer LASIK in the San Fernando Valley back in 1996. LASIK (laser-assisted in situ keratomileusis) is the most popular refractive surgery in the eye health field. Hundreds of thousands of people around the world have undergone this remarkable surgery and are amazed by their results. LASIK surgery, FDA-approved since 1999, can reduce or eliminate nearsightedness, farsightedness, and astigmatism by precisely altering the curvature of the cornea, which means that light can center normally on the retina. A few of the best things about LASIK include that it is very fast and almost painless, and it gives lasting, significantly improved vision.
At Ophthalmology Associates of the Valley, our primary focus is for everyone to receive their clearest vision. We understand that blurry vision can have a tremendous impact on your quality of life and that having the clearest vision possible can enhance everything from work to your favorite recreational activities. Plan a visit at our Encino location to receive a LASIK evaluation with a highly trained eye surgeon and to learn if LASIK is the right treatment for you. Also, you can take a tour of our state of the art own LASIK surgery center. We only perform "all-laser LASIK" and have not used a blade for creating flaps in over 10 years. You could be on your way to reducing or even doing away with your dependence on glasses or contact lenses.
The Pentacam is a multidimensional diagnostic tool that has drastically improved the diagnostic accuracy of determining who is a good LASIK candidate and who is not. One of the most severe complications from LASIK surgery is ectasia or a weakening of the structural integrity of the cornea. Ophthalmologists have become much more selective in recommending LASIK to extremely nearsighted patients, patients with abnormally shaped corneas, and patients with thin corneas because of the increased risk of ectasia.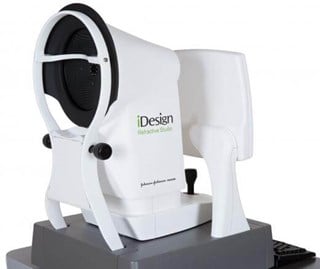 LASIK with iDesign is a highly customized approach to vision surgery that uses a high-definition sensor, which maps the eye in a comprehensive, effective manner to capture up to 5x the resolution of standard technologies. This helps to minimize potential aberrations and increases the likelihood that patients will be able to put their eyeglasses away. Results from a clinical study show that patients who underwent LASIK with iDesign were 99% more likely to attain clear vision that meets their expectations, allowing them to participate in sporting events, outdoor activities, and night-time driving. The majority of patients achieved 20/16 or better vision!
As a result of some remarkable innovations in LASIK techniques, more and more patients might now be eligible for the procedure. Though you may have been told in the past that LASIK isn't a good option for you, it might be beneficial to look into it again. No one but a trained ophthalmologist can properly decide whether anyone is eligible for LASIK, but there are a handful of simple rules that pertain to most patients. For one thing, patients need to be 18 years of age or older. Next, the person must have sufficient corneal thickness. Finally, a few specific eye disorders or other medical problems might affect a patient's eligibility for LASIK, but other refractive surgeries, including PRK (photorefractive keratectomy), may still be a viable solution.
LASIK Reviews
"Got my Lasik done with Dr. Elkins. Best decision I have ever made! Traveling, working out, and everyday tasks are much more convenient. He even texted me on a Saturday after the procedure to check on me. Thats wassup!"
- P.N. /
Facebook /
Jul 20, 2017
"Both my wife and I had lasik surgery with Dr. Elkins. First myself. Then a year later my wife had the surgery. We couldn't be more pleased with the results and the process. Dr. Elkins and his staff are the best. Top notch."
- A.S. /
Facebook /
Feb 23, 2018
"Dr. Elkins is amazing! I did my LASIK surgery with him and it turned out perfectly I'm so glad I did it. He is very cool and caring and compassionate."
- K.M. /
Facebook /
Jul 11, 2017
"I had LASIK with Dr. Elkins a couple of weeks ago and I could not be more pleased with my whole experience at his office.  Ana, the surgery coordinator, made the process so effortless and made me feel very well taken care of.  Dr. Elkins himself is incredibly kind and amazing at what he does! My results are absolutely perfect.  I would highly recommend Dr. Elkins to anyone considering LASIK!"
- E.M. /
Yelp /
Aug 03, 2015
"I've been seeing Dr. Elkins as a patient for many years.  This office is incredible on every level!  They are all about the service which only compliments the brilliant doctors. It really stinks to get older and have changes in vision.  Over the years Dr. Elkins and his staff has always ensured I've maintained the best possible vision.  From the glasses I started with over 20 years go to Lasik and then eventually PRK and contacts my vision has always been kept in check.  His optometrists are patient and caring and really take the time to ensure the best possible prescription.  Additionally ,the eyeglass shop has a great selection and fantastic staff.  Anyway, I can't say enough nice things about Dr. Elkins and Ophthalmology Associates of the Valley."
- J.G. /
Yelp /
Oct 22, 2018
Previous
Next
At Ophthalmology Associates of the Valley, LASIK is a very quick, powerful vision correction procedure. Further, a considerable amount of patients don't experience any pain during the procedure. For the most part, the surgery lasts about 20 minutes in total. Before beginning the surgery, we numb your eyes with no-sting eye drops to avoid any discomfort. Then, a special device is placed within each eye so that the eyes can't move. People receiving LASIK can't see this device and will only feel a slight pressure on the eye. Once the eye is secured, one of our ophthalmologists will utilize an innovative laser to introduce an extremely thin corneal flap. Then, we carefully fold the flap upward to use the laser to correct the curvature of the underlying corneal tissue. As soon as this is finished, we will smooth the corneal flap back into position where it can then reattach itself without stitches. Typically, patients who undergo LASIK can have clear vision within one day.
Immediately after the procedure is completed, it's important to go directly home and take a nap for 4 – 5 hours. This is important because right after the surgery, as the anesthetic begins to wear off, patients typically start to feel like there is something in their eyes, as well as some stinging. These feelings lead to a strong urge to blink or rub the eyes, and this is quite bad for them right after surgery. Sleeping is the easiest way to pass through the first hours of the recovery period. It is vital not to rub the eyes, not even gently, for 7 – 14 days as they heal.
Some patients experience improved vision directly following the surgery; however, many patients report hazy vision for around a day or so. For the most part, eyesight is dramatically better within a day, and the results will improve over the following 8 – 12 weeks. The majority of patients notice blurry vision, night vision issues, and glare during their recovery periods. These side effects are normal and subside within 4 – 6 months.
Our ophthalmologists always ask patients to come in for additional follow-up appointments to keep an eye on their healing progress. LASIK patients also have to apply prescription and hydrating eye drops for several weeks after their procedure.
Long-Term Clear Vision Today
Remarkable developments in LASIK technology are allowing countless new patients to receive laser refractive surgery. If you were advised years ago that you weren't a good candidate for LASIK, please schedule a consultation at Ophthalmology Associates of the Valley to find out whether that's still true. People who aren't eligible for LASIK may be eligible for another refractive surgery option, including PRK. We are happy to offer our San Fernando Valley of Los Angeles, CA patients their sharpest eyesight.
Related Procedures
Related Posts